A Warm Welcome At Brampton
Self Catering Accommodation
Ideal Golfing Holiday Homes in Little Brampton, Madley, Herefordshire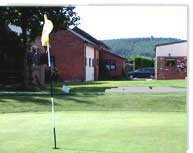 You can relax in our beautiful cottages or enjoy the fresh air on our 9 hole golf course.
Our self catering accommodation holiday homes are surrounded by great places for walking, biking, exploring and sightseeing, only 6 miles from Hereford and just down river from Hay-on-Wye.
You are invited to try our licensed Bar and 10-person Sauna, or our coarse fishing lake, hire golf clubs or fishing tackle, take lessons or just enjoy a snack or an all-day breakfast in our golf shop café. Shops, pubs and restaurants start in the famously friendly Madley village, only a stroll away. This has helped to make it a very popular choice for many of those looking for self catering accommodation. Hear from us in streaming audio here.
The Cherries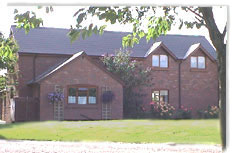 Can you imagine picking cherries from your bedroom window?… and then walking just yards to tee off for a little golf with your friends before breakfast?
The Cherries sleep up to 10 and is furnished with everything you need to make your holiday a delight. Your garden barbecue is waiting. (more info)
HOLIDAY ACTIVITIES:
Sightseeing – in the Golden Valley, take a short trip to Hay-on-Wye, the book capital of the world (more info)
Walking – in the famous Moccas Deer Park (more info)
Cycling – on quiet lanes or off road (more info)
Fishing – bites guaranteed – a great place to learn (more info)
Shop – in the largest golf shop in the county (more info)
The Dairy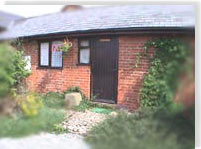 Just the place to curl up with a book and the perfect retreat for a couple.Quiet and beautifully furnished, The Dairy is a haven you will want to revisit.
Book early because it has this effect on everyone.